Previous Events
Most Recent:
The New York Women's Bar Association 2023 Annual Awards and Installation Dinner on June 12, 2023 featured a Silent Auction to benefit the New York Women's Bar Association Foundation. A terrific time was had by all.
Prior Events:
Voting Rights – What Now, and What Is Ahead for 2024?
Speaker: Sara Carter,  Voting Rights Fellow,  Brennan Center for Justice
Date: March 23, 2023
From Lawyer to Author to Netflix: A Conversation with Helen Wan, Author of the Best-Selling Novel The Partner Track
Our Board Member and Author Helen Wan spoke on January 12, 2023, Helen was interviewed by David Lat, a fellow lawyer and author. She gave us an inside view on how she went from practicing attorney to author to her involvement in the Netflix show based on her novel.
Many thanks to Boies Schiller for providing the food and wine and the lovely space.
Champion of Justice Award Presentation
The NYWBAF was honored to be the recipient of the Champion of Justice Award from
the Feerick Center at Fordham University School of Law. The presentation was held on Monday October 24, 2022.
Book Review
On May 3, 2022 we shared an inspiring evening discussion with Shannon Prince, author of: Tactics for Racial Justice: Building an Antiracist Organization and Community.
Art tours
Our Spring, 2022 art tours were stimulating and fun, with informed tour guides to guide us. We visited with:
National Museum of Women in the Arts — Saturday, March 20
We explored the National Museum of Women in the Arts with Docent Mary Walter. During this interactive, docent-led talk, participants had the opportunity to look closely at and discuss artworks from the museum's collection.
Davis Museum at Wellesley College — Saturday, April 17
During this virtual tour of the Davis Museum at Wellesley College, Senior Curator Dr. Amanda Gilvin discussed artworks by, for, and about women who were leaders, from multiple centuries and continents. An interesting presentation about how women in various cultures lead.
The Frick Collection — Thursday, May 13
During this tour of The Frick Collection, educator Isabelle Fernandez guided us on a walkthrough of the museum's 360-degree Virtual Tour, supplemented with high-resolution images of masterpieces in the collection.
Voting Rights – A Non-Partisan Discussion of Current Challenges on the Road to the 2020 Elections
On Wednesday, September 16, 2020 we were delighted to host a discussion about:
Voting Rights – A Non-Partisan Discussion of Current Challenges on the Road to the 2020 Elections
Our Speaker, Eliza Sweren-Becker, is Counsel at the Democracy Program of the Brennan Center for Justice at NYU School of Law. Our Moderator was our own Board Member and Treasurer, Annie M. Ugurlayan.
It was a thought-provoking discussion as the election approached apace, helping to put many issues in perspective, which we all appreciated.
Thanks to our speaker, and to all of our attendees!
"Shady Ladies of Paris"
On Saturday August 15th, 2020, for our first Zoom event, we enjoyed a romp through the demimonde of Paris with tour guide Andrew Lear of Shady Ladies Tours, the tour company that "puts the fun back into art!"  Attendees provided their own Champagne, and a lovely time was had by all!
The Likeability Trap

On Monday night March 9, 2020, we heard Alicia Menendez speak about her book:  The Likeability Trap: How to Break Free and Succeed as You Are.  Alicia discussed how to balance the desire to succeed and the desire (and need, for women) to be liked.  Afterwards, we stayed to chat a bit, and enjoy the hors d'oeuvres and drinks. Our moderator was Sheila Adams of Davis Polk & Wardwell.
Nobody's Victim: Fighting Psychos, Stalkers, Pervs, and Trolls
On Wednesday night November 6, 2019, the NYWBA Foundation hosted a presentation by Carrie Goldberg Esq., an attorney whose firm fights for victims of sexual assault, stalking, and blackmail – online and off. Along with Jeannine Amber, Ms. Goldberg is the author of "Nobody's Victim: Fighting Psychos, Stalkers, Pervs, and Trolls", released on August 13, 2019. The book is a compelling look at how to fight the relatively new weapon that online predators have made of the internet, especially on behalf of our children.
For more information about her firm, see her website:   https://www.cagoldberglaw.com/about
Becoming a Lawyer: Discovering and Defining Your Professional Persona
On September 26th, 2019, we breakfasted with Toni Jaeger-Fine, author of Becoming a Lawyer: Discovering and Defining Your Professional Persona. The program  took place at Fordham Law School, where Ms. Jaeger-Fine is an Assistant Dean for International and Non-J.D. Programs. Her remarks were insightful and the breakfast was especially appealing to the law students who attended.
What the Constitution Means to Me
On August 13, 2019, the NYWBA Foundation sponsored a sold-out night to see this wonderful play.
"What the Constitution Means to Me" is a "boundary-breaking" play that breathes new life into our Constitution and imagines how it will shape the next generation of American women. It tells the story of fifteen-year-old Heidi Schreck, who earned her college tuition by winning Constitutional debate competitions across the United States. Schreck traces the profound relationship between four generations of women in her own family and the founding document that dictated their rights and citizenship.
On Monday, July 8, 2019, the Foundation sponsored an event at Gracie Mansion – a private tour of the Exhibit: "She Persists: A Century of Women Artists in New York".
We had our own guide, and found the artwork stimulating. A good time was had by all.
On November 29, 2018, the NYWBAF held a fundraiser breakfast at The Cornell Club. Our esteemed panelists  discussed the immigration crisis and its impact on women and children.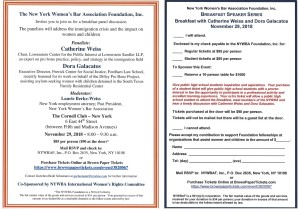 On March 20, 2017, The New York Women's Bar Association Foundation hosted a breakfast fundraiser at The Cornell Club.  The event featured J. Kelly Hoey, author of Build Your Dream Network: Forging Powerful Relationships in a Hyper-Connected World and was moderated by Marilyn Kunstler, a NYWBAF Board Member who was instrumental in organizing the event. Ms. Hoey encouraged the audience to think about the network they need to build by creating a "vision board" of people they admire and reaching out to them.  Ms. Hoey also emphasized the importance of having both shallow and deep networks, the former to foster opportunities and the latter relating to subject matter expertise. The Foundation thanks the following firms for their sponsorship of the event: Berke-Weiss & Pechman, LLP, Boies, Schiller & Flexner LLP, Cohen Rabin Stine Schumann LLP, Condon & Forsyth LLP, and Martha E. Gifford, Esq., as well as to Board Member Marian Burnbaum for coordinating the attendance of the Stuyvesant students, all of whom received a copy of Ms. Hoey's book.

On October 26, 2016, the New York Women's Bar Association Foundation organized a panel of speakers to discuss the Presidential Election from the vantage point of women's and children's issues at The Cornell Club in NYC.  The moderator was Magee Hickey, WPIX-11 reporter, and the speakers were

 

Sonia Ossorio, Executive Director of the National Organization of Women, Karen Greenberg of Fordham Law School (Director, Center on National Security) and Carmen Maria Rey, Deputy Director of the Immigration Intervention Project at Sanctuary for Families.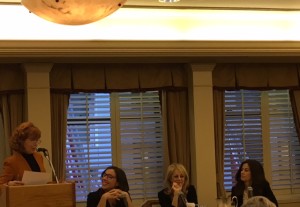 On November 18, 2015, The Feerick Center for Social Justice at Fordham Law School hosted a New York Women's Bar Association Foundation Scholarship Appreciation Breakfast.  Thanks to a generous $100,000 initial donation to the Foundation by Norma Paige, The Foundation was been able to provide two scholarships each year for the last five years.  Thanks to the tireless efforts and generosity of Foundation Board Member, and Fordham Law School alumna, Laurie Berke-Weiss, the Foundation this year raised enough additional funds to sponsor two more scholarships for the 2015-2016 academic year.  Many current and former New York Women's Bar Association Foundation Scholarship recipients were in attendance.  The Foundation is humbled to have contributed to the important work of the Feerick Center by sponsoring talented law students whose careers have been forever shaped by their fellowships.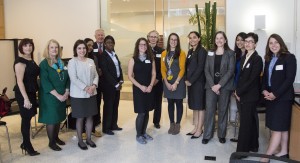 Help us advance our mission to aid women and children in New York and beyond by giving generously to the Foundation. To make a contribution please Click Here.